We Don't Just Take the Keys: The Road to Better IT Solutions Starts with a PTO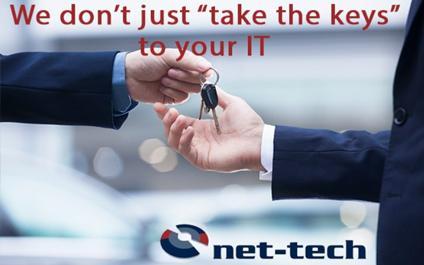 When working with MSPs, the biggest IT problem many organizations face isn't technical or software related. It's an issue of approach. When you're onboarded by an MSP (Managed Services Provider), they simply "take the keys" to your IT systems, meaning they get all the passwords from the former party and continue to manage a system they didn't build.
MSPs manage your network, but that's about all they do. In an evolving environment, your organization's needs might not align with what's possible with your current IT solutions. What's the MSP answer to this question? An endless sell cycle, with patchwork upgrades, new hardware and licenses. You're paying them monthly to manage your network, but you're also making capital investments almost as regularly, with next to no benefit.
At Net-Tech, we think organizations like yours deserve a better approach to their managed IT needs. As a PTO (Professional Technology Organization), we don't just take the keys and run your network, blind to its issues. We aim to understand how your needs align with network capabilities, to offer a continually improving managed IT experience without out-of-control capital expenditure. In this piece, we want to look at how the PTO onboarding process at Net-Tech empowers clients like you with IT that grows and continuously meets your needs.
Why "Taking the Keys" Doesn't Work
Organization X had a problem. Their current IT network was not scaling with their new needs in terms of access speed and compliance. Their managed IT provider helped put out fires but was working with what was fundamentally a network pushed to its limits. Their current managed IT partner suggested major capital investments to upgrade their infrastructure – something that would've proven disruptive and expensive.
When Net-Tech entered the scene, we sat down with the decision maker and tried to understand exactly what their aims were and how the network could scale to meet those goals. We introduced the Net-Tech PTO program and, at a monthly fixed cost, leveraged automation, our multicloud architecture and integrated hardware infrastructure to transform Organization X's network capabilities. Today, Organization X's network infrastructure scales with their business needs. The PTO service from Net-Tech promises that future growth is handled seamlessly.
The MSP Problem: a Lack of Flexibility and Scale
As we've seen with the Company X example, the issue with many MSPs is that, while their "take the keys" approach might address current IT needs, it likely won't scale with the business as growth becomes a bigger factor. During the initial honeymoon period, a managed IT provider might fix big-ticket solutions that prevented critical work from getting done. But afterwards, during the maintenance phase, they'll leave many underlying issues untouched, meaning your network is never quite working optimally. Net-Tech, as a PTO, on the other hand, is built around enabling your business growth and objectives through a continuously evolving approach to your network infrastructure.
The MSP Needs to Sell You Their Standards
When making decisions about your next tech partner, there are three things you need to know:
The MSP doesn't bring their own tools; they want you to buy them from them.
Since they don't use the same tools across clients, they can't enforce their own standards.
You will need to decide whether to supply these tools for them. Is this the best plan towards tech success?
The PTO Process: A Better Way to Onboard and Support Customers
As a professional technology organization, our approach to your network infrastructure tightly integrates with your overall business needs. At Net-Tech, we use the client onboarding process to understand your network and your business. We then bring the right tools and technologies with us on day one to rectify the gaps in your current network infrastructure. The MSP approach involves lots of waiting and watching – when something goes wrong or something slows down, a new expense comes in and you have a patchwork update that'll hold until the next problem arrives. With the PTO onboarding approach, we bring the tools and technologies with us and work right from the start to align your network's capabilities with your organization's growth trajectory.
The PTO process is a circle of comprehensive IT coverage that includes:
Hardware as a service
Backup and Disaster Management
Employee Identity Automation
MultiCloud Architecture
Software Support
Security
The PTO approach integrates all these capabilities together. Bringing in the full line of capabilities a PTO has on offer means a lengthier onboarding process: you aren't just handing over the keys to your network. You're sitting with decision makers and senior engineers to find where your business is going, where your organization needs to go and how Net-Tech can best support that.
Intelligent automation is one of the ways Net-Tech accelerates this process. Instead of thinking of automation as a one-off stand-alone addition to a particular process, we look at automation as an opportunity at various levels of your business. Employee identity automation is a notable example, cutting down time and resources spent on identity and access management (IAM), while bolstering actual security.
Another way the PTO approach empowers organizations is by recognizing and documenting deviations and issues as they occur – or even in advance. Typical MSPs don't always take responsibility here and will document anomalies after they've taken place. By highlighting issues before they strike, a PTO from Net-Tech can help save resources and time spent on firefighting by increased preparedness.
Disaster Recovery: Built Right In
We live in uncertain times. From hacker attacks to brownouts and blackouts, there are more than enough risks out there for catastrophic data loss. Many MSPs don't supply integrated disaster recovery or offer it as a premium add-on. At Net-tech, we believe disaster recovery should come standard, as part of your overall PTO package. Our multicloud-based disaster recovery solution, together with data forensics, means Net-Tech can show what went wrong and restore data lost, with minimal impact to your core business. We'll help you plan and implement a seamless business continuity plan to ensure you're up and running with minimal loss.
Engineered for Work-From-Home
Work-from-home is the new normal. But MSPs respond by cobbling together solutions from the pre-remote era that rarely work without major caveats. Net-Tech built its PTO program end-to-end to support remote working environments and use cases. We've taken a holistic approach, from configuring video conferencing to remote access management to work-from-home security. PTO is a "native" solution. It's not a medley of MSP products cobbled together to help you work from home. It's a complete remote workforce strategy. This means cost savings; better time use and enhanced security.
Your "Key" Conclusion
Onboarding is always an interesting stage in the PTO lifecycle. Our onboarding process takes longer than an MSP's, but the suggestions and processes we put into place have long-reaching impact. In many ways, onboarding with Net-Tech is like getting your business on a diet – there might be unpleasantness and teething problems at first, but the long-term benefits are well, well worth the investment.
If you're looking for a comprehensive technology partner to manage your IT network, reach out to Net-Tech today. We'll slot you in for a complementary IT infrastructure analysis.