How Can IaaS Protect Your Building and Data?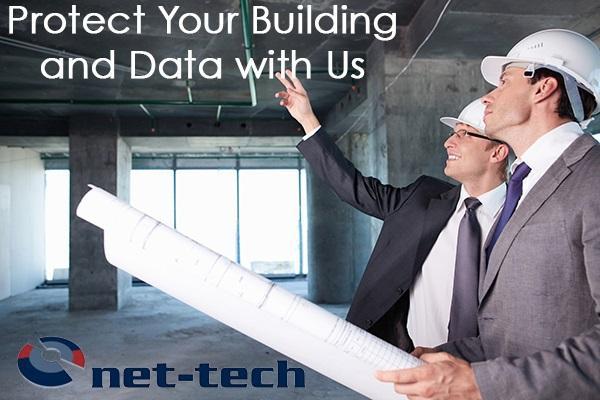 For decision makers in the property management market space, understanding and mitigating future risk is all part of a day's work. Infrastructure as a Service (IaaS) provides the framework for securing these key processes. But interpreting and managing the risk around complicated IT networks is a headache most professionals would rather do without.
Today's commercial real estate structures are more intricate than ever. Consider the myriad of systems that may or may not need to "talk" to each other; Every day dozens of independent vendors and engineering teams need to connect to your system networks. The security framework is haphazardly constructed, without full understanding of the current and future impact to the security integrity of all its parts. You end up with an increased vulnerability exposure to operation disruptions, not to mention opening the doors to hackers that want to shut down these systems and for ransom payments, or jump over to your corporate network and engage and password and identity theft.
Do you really ever really own your tech, or are you always renting and replacing? With each new solution you add, you also add increased security risk. Of all the organizations we work with, property management companies have been at the forefront of Infrastructure as a Service (IaaS). As organizations like yours adopt IaaS, here's what you should keep in mind.
How Does Infrastructure as a Service Benefit My Business?
Infrastructure as a Service (IaaS) is how today's businesses and organizations are cutting technology costs, introducing stability through disaster recovery planning, and helping you leverage robust security strategies. By providing an improved, reliable network, IaaS makes it easier for everyone on-site to access the data they need as well as connect with colleagues, business partners.
IT issues often take a back seat to problems that directly impact clients or revenue. We understand why. When budgets are tight, it's easier to see how investing in your sales team can bring in new business. It's harder to estimate the positive ROI from IT security solutions. 
The complexity of IT is another wrinkle. You want to mark the problem "solved" on your to-do list. But using a quick fix creates a recurring problem. Our IaaS services are designed to take IT problems off your punch list.
IaaS lets you stop thinking about technology
For our clients, the real value of a Net-Tech IaaS solution goes before strategic opex and capex spends, it is evidenced in the every day way we manage your systems and networks.
Clients using our Technology Asset Program (TAP) don't worry about their IT problems. They know we're always there, maintaining their IT, preventing issues before they happen and solving problems when they do. Net-Tech's IaaS MSP solution manages on-premise security systems, IT security in the cloud, servers, data centers, backups and network storage. 
You would never expect one security guard to be on duty 24/7/365. You need a team to provide constant protection for all your building systems.
Through IaaS, Net-Tech can help you answer key questions such as:
Who's running your updates?

 

How do you know you're secure?
Is your equipment old and vulnerable?

 

Who's running your IT security?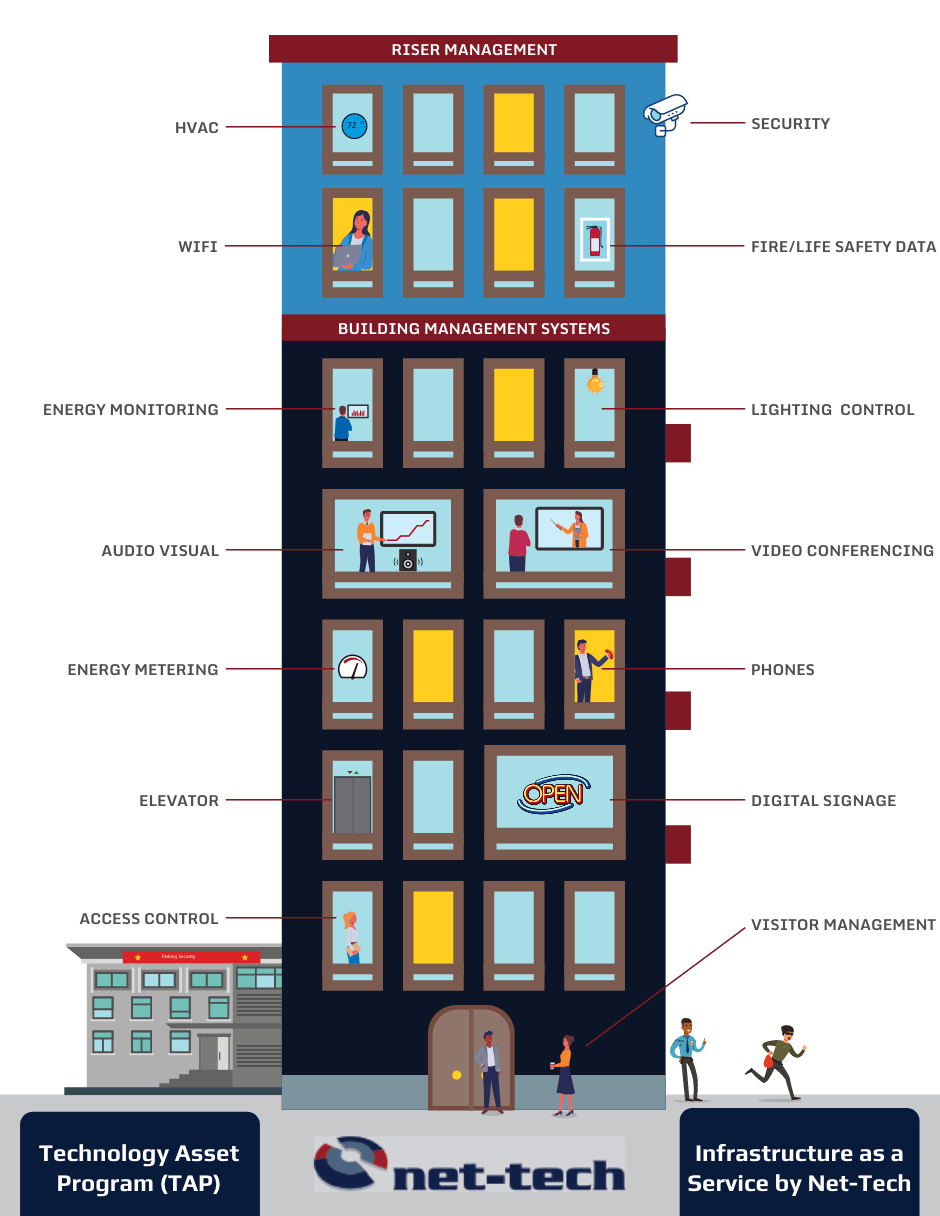 Never worry about outdated equipment or security programs
Your equipment and systems will be evaluated and updated on a regular schedule. We maintain your inventory. Hardware and software are replaced. Your technology is never obsolete. You don't have to think about updates or added bills. This is already priced into the service. 
IaaS is crucial for new technologies. More buildings and offices are installing Internet of Things (IoT) devices that are constantly connected to the internet through sensors, software or other technologies. A major benefit is the ability to remotely manage and monitor physical systems – like access and heat. It's convenient for you, and cybercriminals.  
How Does the Internet of Things Affect Network Security?
Is your current building network system ready for whatever IoT you want to put in your building?
Our team has already seen how a device that is controlling utilities can be accessed by a bad actor. This is a massive, new threat. Not all IT departments, building managers and organizations are protected from it. A strong business continuity plan will have provisions for IoT security.
New devices create too many connections
How do you make sure IoT systems aren't currently compromising your organization's security? These devices are often extremely cheap. From a tech-life perspective, they are also very young. Because they aren't mature, the network has to compensate for their lack of security. IT leaders need to create a secure environment for these devices to operate in safely. 
Utility Systems are Vulnerable
Issues caused by IoT devices are already creating new expenses for business owners. Recently, in Seattle, an HVAC vendor didn't properly secure their network after a building install. When someone plugged in an IoT-connected device, it exposed the network. A malicious individual took control of the HVAC system. 
That individual could have potentially set the heat at 100 degrees, which during the winter, could cause the chillers to burn out. Fortunately, that didn't happen this time. Replacing the HVAC system would have been an enormous cost for the building owner, especially if it had been brand new. The breach also meant that other building data could have been held hostage. 
Spending a few thousand dollars to correct those security vulnerabilities can save millions in replacing systems. Some IT departments recognize this and are now requesting more penetration testing. They are dictating what devices are allowed on their networks because of these vulnerabilities. Infrastructure as a Service provides extensive protection for utility systems.
Net-Tech protects critical systems
The experienced team at Net-Tech will set up a streamlined system that works from day one. Instead of juggling multiple vendors with their own systems, you can rely on a centralized, secure system with Net-Tech.
Construction should account for all security needs. General contractors don't typically have expertise in the areas of security, network and equipment redundancy. Every vendor has its own network, creating an administrative nightmare. Then the IT department will come in later and need a new configuration. There has to be a change order, resulting in a delay and more costs. 
It's possible to prevent future change orders. Net-Tech's experts have been invited to participate early in the building design process. We help create a system that can be handed off from the construction company to the owner very easily. After construction is complete, Net-Tech can continue to help maintain the systems long term.
Network security is a critical aspect of the building process. Infrastructure as a Service provides that key security support.
Improve Your Organization's Network Security with the TAP Program from Net-Tech
Whether you have an IT department or not, Net-Tech can help ensure safe and secure systems. It's important for Net-Tech to understand the context of your current systems. No matter what they are, we will improve their security to meet our standards.
To learn more about how Infrastructure as a Service could help you, we'll ask: 
What are your concerns?

 

What are your weak points?

 

Where do you want to be tomorrow?
Net-Tech will build a partnership with you that will improve your network security. We can tackle anything you can throw at us. Contact us today to learn more about IaaS.