Don't Downsize, Rightsize Your IT Team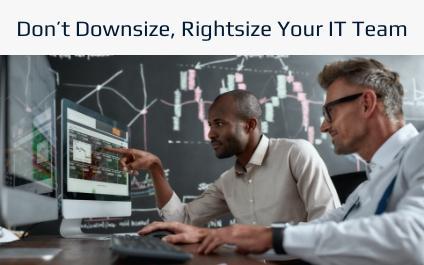 In the last year, most Seattle businesses found themselves needing to pivot their operating strategies. Very few industries have continued to work "business as usual," and those that survived have had to contend with increased IT security risks and other key network security vulnerabilities due to the transformation of their team and office structure. This has led to patchwork IT solutions that don't offer the robust protection your organization needs to succeed.
So what has changed, and how can organizations manage these changes without spending too much of their budget on IT?
We'll delve into the changes that have shaken our businesses this year and show you how rightsizing, combined with outsourcing, can offer the protection your organization needs to move into 2021 with confidence. 
The Ongoing Challenges We Faced in 2020
The biggest driver of change in 2020 was the sudden switch to remote work most businesses made in March. When a team is remote, it reveals new vulnerabilities, including insecure home networks and devices that can put your business at risk.
Another aspect of remote work that challenged IT departments was their teams' changing hardware needs. Suddenly, having hundreds of in-office desktops wasn't necessary, and laptops, smartphones and tablets were essential to ensure that staff could communicate with clients and collaborate with colleagues.
With all these IT challenges to deal with, in addition to the myriad of other complications caused by the pandemic, many businesses reached out to professional technology organizations (PTOs) like Net-Tech to help augment their security and support their IT infrastructure.
One recent survey conducted by Syntax found that 83% of IT leaders with in-house IT teams planned to outsource their IT security solutions to a PTO within the next 6 months. Many of these leaders are enthusiastic because they see this move as integral to their safety from cyberattacks, which have been increasing since the beginning of the COVID-19 pandemic.
The Business Case for Outsourcing Some IT Solutions in 2021
Strategically outsourcing your IT can bring many benefits to your organization as a whole, and improving IT security is just the beginning. The right PTO can help you optimize your technology and communication infrastructure, improving efficiency and making it easier for your team to connect with customers.
With this expert support, there's no need to reduce the size of your team. All you need to do is make it the right size by bringing on outsourced experts to help build on your team's existing knowledge. That way, your team can shift their focus back to moving your core business goals forward.
Here are some other reasons why business leaders see outsourcing as their best strategic move for 2021.
It allows your team to focus on core competencies
Since the beginning of COVID-19, malware, ransomware and targeted cyberattacks have increased by more than 400%. When faced with this deluge of potential threats, staying on top of network security can easily monopolize your IT team's time and focus.
Although taking on additional tasks to save money may seem economically efficient, the reality is that there are only so many hours in a day. Overworking your IT team will lead to burnout, with important tasks slipping through the cracks. Instead, add knowledge through an external PTO team that can support and reinforce your existing team as they turn their focus back to core competencies.
Reduce business risks
When you engage the right IT provider, their expert support can help any organization improve its security posture. At Net-Tech, we do this through a variety of turnkey solutions and programs designed to match your organization's threat level, budget and processes.
Every individual program, from the latest bot detection software to personalized social engineering and IT security training for employees, is carefully calculated to reduce your business risks, maintain compliance and give your team what they need to succeed.
Reduce outages and downtime costs
The costs associated with IT security breaches or natural disasters can extend far beyond repairs or lost productivity. If you don't have a robust business continuity plan that includes proper backups and strategies for getting back online, you're taking a major risk.
The right IT partner reduces these risks by working with your in-house IT team to develop a business continuity plan that gets you back to work faster. Once it's created, they'll test and monitor it so you know it will work in an emergency.   
Improve business continuity and increase productivity
To achieve success in 2021, your technology and IT infrastructure need to be aligned with your business goals. Net-Tech's Total Care Cloud subscription program can provide, maintain and quickly replace any of the tools your business needs to succeed. Our infrastructure-as-a-service plans all include laptop and desktop replacements every 36 months, ensuring you're never working with outdated tools that slow down productivity. 
Create a consistent yearly IT budget
Working with a PTO like Net-Tech is a great way to ensure your IT expenses are both reasonable and predictable year after year. Engaging our team is less expensive than bringing on one or more full-time staff, plus you get the benefit of a multidisciplinary team of experts working to ensure you have the most up-to-date processes, tools and infrastructure to fight emerging security threats. 
Rightsize Your IT with Experts from Net-Tech
You don't need to replace your existing IT team to get the expertise you need to succeed in 2021. Their value comes from their intimate knowledge of your business. Instead, rightsize their role and leave the rest to your Net-Tech team.
Our Total Care Cloud subscription program offers everything from long-term strategic planning to 24/7 support for devices, software, security and much more. Our consistent, responsive and personalized IT support is available whenever you need it, so your in-house team can get back to work in a role that's a better match for their skills and experience. 
Reach out for a complimentary IT infrastructure analysis today.