United Way of Kings County Trains for an IT Solutions Victory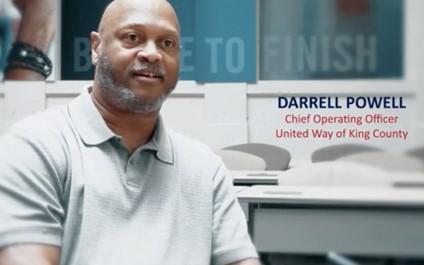 Darrell Powell, CFO of United Way of Kings County (UWKC), inherited a recurring issue when he stepped into his role: a constant need for IT solutions. The UWKC IT team came to him daily with new problems. With the help of Net-Tech, Powell was able to fundamentally change UWKC's IT approach. 
Now the organization spends less on IT than when they had their own team. The issues UWKC faced are common and can be solved with the help of a professional technology organization (PTO). Net-Tech helps nonprofits and organizations of all sizes that are ready to rightsize their IT approach. So what exactly happened with UWKC, and how did Net-Tech help?
When IT Support Teams Lack Internal Leadership
UWKC is a large and impactful organization. When Powell came onboard, he quickly realized that the IT department had been growing as the organization grew – but with no real direction. There was no IT manager, and no one was considering the long-term vision of the organization or its IT needs.
UWKC was at a size that could justify employing some internal developers who were creating custom software and specifically customized internal applications that performed various functions for their community programs. However, over time these apps became both unmanageable and unscalable.
2 Critical Problems That Wouldn't Go Away
Supporting a custom software development department started to become very expensive and time-sensitive. Problem number 1 was that when the organization's needs changed, the software needed to be redeveloped. The second critical problem was that the applications the team built 5 years ago were beginning to not work on the newest (and most efficient) operating systems.
A Difficult Situation Leads to Sleepless Nights
No one wants to be stuck with old stuff, but that's exactly the situation UWKC found itself in repeatedly. IT department members would come to Powell daily with their issues and request a slice of the budget to solve a new problem with a different system. 
Powell was so distraught that he couldn't sleep at night. The systems were failing at bad times, and Powell had no one to tell him when it would be fixed, what the security status was and how much it would cost. To solve these issues, the internal IT team wanted more staff.
Job Security and the Internal IT Team
Without an IT manager, no one was asking, "Should we be doing this?" Instead, the focus was on "Could we do this?" which ultimately created more problems.
IT staff want to be helpful. Internal IT teams have the objective of saying: "Yes, we can do this. We can fix this." Not solving problems could reflect poorly upon them. Their job security is dependent on providing solutions. 
This leads many IT team members, especially those in the nonprofit sector, to want to be ultrahelpful. The inclination to say "Yes, I can fix it" or "No problem. I can grant you access" causes problems down the road. 
Because they're often overburdened, it's also typical for the IT staff to quickly solve the problem, taking the easier route and not following best practices. For many internal IT teams, there's little accountability and governance. 
Being helpful in IT will lead to systems that are out of compliance with best practice stability and security standards. Having a "can-do" attitude might help with job security in the short term. But in the long term, this approach can lead to data management issues and network security problems.
The IT Solution: Training for Victory
Just like a runner needs a training regimen to win a marathon, UWKC needed a training plan to win their battle with tech. Net-Tech started by identifying the problems we saw with UWKC's internal applications. We also discussed the problems we saw with the file system and its data. 
Step 1: The Diet
One of the first steps of our training plan for UWKC was to "put them on a (data) diet." We reorganized all of their data so it could be managed in a secure manner. One of the issues UWKC had encountered was because their developers had created a very user-centric platform with little consideration for security. That works – until employees leave the organization. Over time, user-based management does not work as employees quit or are fired. Role-based management is the more secure approach that we helped UWKC adopt and continue to maintain for them.
Step 2: The Discipline
The second key step in our training plan is to emphasize security discipline. You cannot slip up and give one user access to a file just because they need it right now.
Just as a physical trainer coaches by emphasizing self-discipline, Net-Tech provides the best IT solutions by creating a high standard for discipline with the employees of our clients and our own at Net-Tech. Our employees are also helpful IT guys, however, we operate with a strict accountability system in place.
Many managed service providers (MSPs) do not operate with this much governance. They provide managed IT services, but they don't provide ongoing accountability. As a PTO, Net-Tech prides itself on our dedication to security discipline.
Step 3: The System
There's a major reason our staff adhere to the best-practice standards we set: it helps with automation, and Net-Tech is financially incentivized to automate. A lack of automation costs us money, so we do everything we can to make sure our systems are set up to best-practice standards.
Automated security might sound scary. However, if you're doing it because you want to ensure that the appropriate people have the security privileges they need while they're at the organization, that can be done through automation.
Internal IT teams don't have the safeguards that some managed IT services establish. For UWKC, Net-Tech determined a roadmap to victory. We designed a training plan with the goal of empowering the organization with all the secure and stable tech it needs. 
What Happens When Someone Is Fired?
When someone quits or is fired, there needs to be an automated process that takes them out of every system/space they had access to. Especially in the case of an employee who's been fired, continued access to organizational systems and data could create major problems. 
Net-Tech gives the decision of who has access to the ex-employees' email accounts to the person who does the hiring and firing. When someone is fired, the system asks them, "When do you want this to go into effect? Who should manage their email? For how long?" That parameter is built into our automation. 
As UWKC Continues Their Journey, Net-Tech Provides IT Support
UWKC had over 50 databases with various management issues. With guidance from Net-Tech, they dramatically decreased their management costs while increasing their security, stability and accessibility. As part of the PTO subscription, Net-Tech will continually help UWKC with this database management. 
Following a training plan leads to good results for athletes and for organizations. Nowadays, Powell has a lot fewer sleepless nights.
Are you looking for expert help with your IT needs? We provide IT support Seattle businesses can count on. Let us know. Reach out for a complimentary IT analysis today.