Net-Tech helps isolated seniors stay in touch with family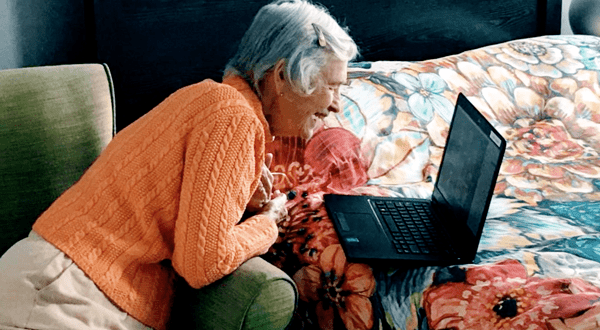 Living Care Lifestyles residents receive free laptops during the lockdown
SEATTLE – Caring for the community has always been a top priority for Net-Tech, Seattle's only Professional Technology Organization (PTO). When the pandemic lockdown separated area senior living residents from their loved ones, Net-Tech put their always-present desire to help the community to work.
"When the virus hit, one of the first things we did was reach out to all our clients to see where we could help," said Matt Bratlien, Net-Tech managing partner. "Assisted living facilities especially had their hands full protecting their residents from the virus."
Living Care Lifestyles was searching for ways for their residents to stay engaged with loved ones during the stay-at-home order which prohibits visitors to assisted living facilities. Working alongside Tracey Harvey, Director of Community Solutions at Living Care Lifestyles, Net-Tech donated over 40 laptops so residents could keep in touch with loved ones from the safety of their homes during the pandemic. Watch the video here.
The senior residents often have difficulty associating a person with a voice, so the ability to see the person they are speaking with makes it easier for them to connect during this stressful time. Quail Park, a Living Care Lifestyles community, staff members coordinate video calls with family and friends so residents can communicate regularly.
"Video calls for residents and families have made it possible for seniors to see the person they are talking with so they can communicate face-to-face during this stressful time," said Harvey. "It's been an invaluable resource for our residents to be able to connect with their loved ones."
Net-Tech is a PTO committed to streamlining organizations' IT through proven, scalable solutions. From help desk to network management to security, for over 35 years Net-Tech has helped thousands of trusted clients in all 50 states become more productive and simply do IT better. For more information, please call 425-452-8324 or visit us online.