Revisit Your Remote Work Plan with Flexible Managed IT Services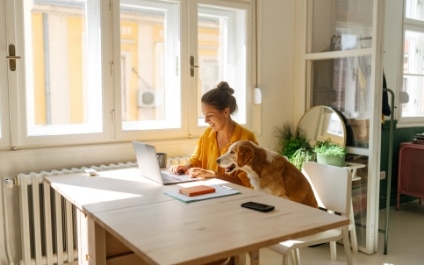 Remote work changed established boundaries. Employees may not be able to work at 2 p.m. but they log in at 10 p.m. to finish a project. This transformation of the rigid 9-5 continuum creates problems for managers. Leaders need to learn more about how employees are spending their time, when their teams are working and how productive they are – all without turning into Big Brother.
Good news: Your employees are more productive at home
A Stanford study that took place over 9 months and followed 16,000 workers found that working from home increased productivity by 13%. Factors such as fewer breaks and longer hours led to this increase.
Bad news: You can't easily spot disengaged or burnt-out employees
In the office, you could easily tell if an employee shirked responsibilities or worked incessantly. Now you have no insight into either. This might not have bothered you last year when you figured you'd quickly return to the office, but now remote work is here to stay. Considered these five themes The World Economic Forum highlighted when describing the future of the workplace:
Work from anywhere
Work for all
Work at will
Work smarter
Work for the planet
Because there is a global trend to embrace work from anywhere and work smarter, there is an ongoing need for better tools to monitor employee time usage. Net-Tech's Total Care Cloud provides those tools and offers superior customer service support.
Old Tools Don't Work In New Environments
Remote work is here to stay, and managers need a way to supervise and support. The problem is that supervisors don't know how their employees are using their time because previous tools don't work anymore. Current VPN tools don't use bandwidth efficiently. Firewall proxies, cloud access security brokers, and other tools that operate on the idea that everyone is connecting from one point are no longer helpful.
Evolving Managed IT Services for Remote Workers
How can you consistently check on productivity when you can't walk around and see what's happening?
There are new remote work solutions that offer better ways to supervise employee productivity. These tools allow managers to monitor at the device or workstation level.
With this type of monitoring, you can better manage:
data
breach notifications
individual employee productivity (if you choose to)
You will have choices when it comes to monitoring. While tech tools can give you that digital access, some managers might say, "I don't want to know how my employees spend their time because I know I'll become that monster who's constantly keeping tabs on them."
Measuring Productivity and Developing Remote Workforce Strategies
How do you get good data on how your employees are spending their time without becoming Big Brother?
It's typically unwise to use data to single out individual employees. Our team at Net-Tech recommends that you use your data to identify trends in your business. If you take data and apply it to your processes and tools, then it's good data that can help improve your business. However, if you take the data and apply it to individuals, then you go down a trust rabbit hole.
Powerful IT Services Provide Your Digital Magnifying Glass
You can use these metrics in a coaching, supportive way instead of as punitive and surveillance tool. It's not just about catching the slackers; it's about making sure that employees are taking time for themselves and their mental health, too.
The Society for Human Resource Management recommends that managers monitor the number of hours that their employees are logging and make it a priority to help employees balance their workloads. This is especially important now because remote employees are working longer hours.
Net-Tech's Total Care Cloud provides insights about how much total time a user is spending on a device and more specific insights about how much time the user is spending in a particular application. You can also discover which employees continue to use old tools rather than new. The Total Care Cloud does not provide a time management tool, but tracks time spent in applications so that you can interpret that data.
The Right IT Support For The Future
Leaders know the importance of having all the right information to keep their business on track. With good data and analysis, organization leaders are empowered to make the best big-picture decisions.
Reducing Risk, Increasing Efficiency, and Controlling Cost
Our team at Net-Tech wants to show your organization's leadership team how to gather and use that data. Because there are different standards for how different departments (e.g., sales reps versus accountants) are evaluated, it's important to establish criteria for data use.
Techniques for evaluating employees, such as the critical incident method, the 360 evaluation, and the checklist method, offer benefits for different departments. These evaluations are enriched when they're supported by data about employee application usage. With our Total Care Cloud, you can collect the relevant data before those evaluations.
Managed IT Services Help Prevent Burnout And Increase Productivity
With great data comes great responsibility. Net-Tech's tools provide great data to identify low-performers, high-performers, and employees who are at risk of burning out. When expectations aren't set appropriately or communication is unclear, employees are likely to be unproductive.
Leverage Your Organization Continuity Plan
Without traditional 9-5 boundaries and the ability to visually check in on and/or casually talk with employees, digital tools for monitoring employee time are necessary to help with continuity planning.
Understanding how your employees are actually spending their time can help you make better long-term decisions. Those decisions can help prevent burnout, the resulting lapses in experienced personnel, and problems caused by having fewer experienced employees.
Developing your organization's continuity plan also requires addressing disaster recovery. Our Total Care Cloud includes a centrally-managed offsite backup and disaster recovery independent of your office. Templated policies defined by industry best practices are also included.
Finding The "Sweet Spot" with Remote IT Services
It's important to know how to appropriately use data in your organization's culture. There is a guide to managing these insights without losing the trust of your employees. A PTO like Net-Tech and a service like the Total Care Cloud can help you discover that balance.
Don't be that unfriendly shadow lurking over the shoulders of your employees. It's okay to gather data, but you can't lose the trust of your employees.
Maintaining Network Security
Remote workforce productivity strategies are important, but if your systems are not secure then your time will be spent dealing with security issues and not focused on efficiency. When it comes to protecting your organization, you have options. Net-Tech can provide the IT solutions you need no matter where your employees are located.
Stay Secure While Distanced
The Total Care Cloud service from Net-Tech offers:
better IP-based filtering
more timely notifications on alerting
dual-purpose tools that also enhance your security
Net-Tech's Total Care Cloud also offers defined security programs to match your organization's threat level and budget. Your needs are what's most important. Net-Tech will continually evaluate your security programs as providers change and new threats emerge.
Find Your Managed IT Services for Remote Workers With Net-Tech
Net-Tech's tools can help managers monitor application usage, social usage, and other areas. Our team can provide the guidance needed to interpret and use that data. Working with a Professional Technology Organization (PTO) like Net-Tech can help you discover where your efficiency problems lie.