Special holiday delivery: Seattle nonprofits receive upgraded monitors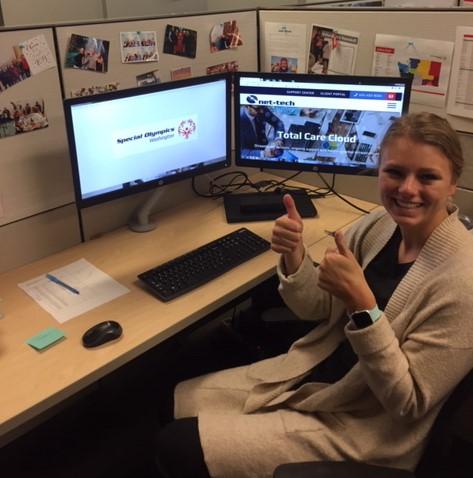 Net-Tech and Wellspring Family Services coordinate and deliver donations
Net-Tech and Wellspring Family Services have teamed up to add some holiday smiles to deserving nonprofits in the greater Seattle area. The joint project provides area nonprofits with upgraded 24-inch, flat-screen monitors to replace existing older, mismatched monitors on their last leg.
The monitors come from an online travel company, which is relocating its 4,500 Seattle-based employees to a new campus and will be replacing all of their computers with new technology. The firm contracted with Green Standards, a business specializing in converting corporate waste into charitable donations, to distribute their old monitors and televisions to deserving local nonprofits.
Green Standards contacted Seattle nonprofit Wellspring to identify and coordinate the monitor donations to local nonprofits. Net-Tech, an active supporter of regional nonprofits, will be delivering and setting up the new monitors for nonprofits at no charge.
"As Wellspring's IT partner, we did not hesitate to step up and assist with the logistics and set up of equipment for this amazing program," said Matt Bratlien, Net-Tech Managing Partner. "Our staff has enjoyed seeing the smiles on the faces of area not-for-profit teams as we set up their more updated equipment."
About 500 monitors have been received so far, with more to come in 2020 as space to store them becomes available. Wellspring will be vetting and working with the nonprofits to distribute needed monitors.
"Green Standards wants to continue to partner with Wellspring and Net-Tech for more tech inventory redistribution projects, so this may be the start of something bigger," said Peter Schultz, Director of Strategic Innovation at Wellspring Family Services.
Net-Tech is a Professional Technology Organization (PTO) committed to streamlining organizations' IT through proven, scalable solutions. From help desk to network management to security, for over 35 years Net-Tech has helped thousands of trusted clients in all 50 states become more productive and simply do IT better. For more information, please call 425-452-8324 or visit us online.
Wellspring Family Services is a nonprofit agency dedicated to ending the cycle of family-homelessness in King, Pierce and Snohomish Counties. For more than 125 years, Wellspring has been a critical resource for families facing crisis.